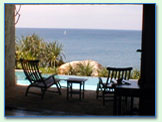 In front of and to the right of the building containing the study room and master bedroom and adjacent to the swimming pool, is a Balinese Sala (pavilion) with panoramic views of the Andaman sea, the rocky shoreline in front of our villa, and our villa's swimming pool and front garden. The sala, which is constructed on the rocks, can seat 6 people comfortably and is used for lunches, sundowner cocktails, and general relaxing.
Another unique item is a large flat rock in front of our villa from which swimming in the sea will be possible during the calm season (Dec-May).
The developer, next to The Boathouse on Kata Beach proper, has constructed a club for villa owners which includes a new seafood bar/restaurant called Gung, changing rooms, and beach chairs/umbrellas so there is direct access to Kata Beach. There is easy access to good restaurants (with good wine cellars) at The Boathouse, Gung, and others on Kata Beach, all of which are within easy walking distance from the villa. Patong Beach, the center of night life in Phuket, is 20 minutes away by car.